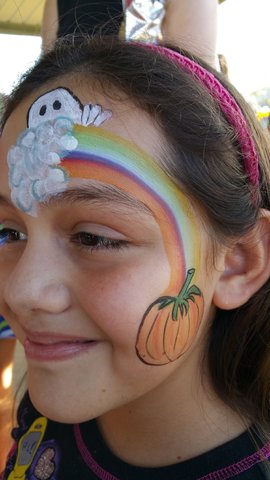 We offer the Best Quality Face Painting in Austin & Central Texas. We use only the highest quality FDA & Cosmetically Approved Makeup that is gentle on your skin. Our professional artists take workshops with the best teachers in the business & have years of experience. Our top artist Mott, attends many Face & Body Art Conventions all over the USA, Canada & has competed 4x at The World Body Painting Competition in Europe! Our face painters are $125 per hour per artist. Read below for special deals!

$125.00 for 1 hour
$115.00 per hour for 2 hours with an order of 1 Moonwalk
$110.00 per hour for 3 hours with an order of 1 Moonwalk
$100.00 per hour for 4 hours with an order of 2 Moonwalks, or with 1 Moonwalk and 1 Concession Item

Be sure to book well in advance for special events so that you can get the desired performers. Depending on the areas that you are holding the event in, be prepared for a small travel fee. Also during Holidays and Holiday Seasons we require a minimum of 2 hour blocks per performer because it is extremely busy and they may not be able to get from event to event if performing only one hour. Rates may vary for certain performers so be sure to get with us and discuss all your needs.